Treatment That Goes Beyond Massage Therapy
September 28, 2021
When your body is in pain due to overused muscles, accidents, illnesses, or daily stress, your first thought is often: I need a massage. While massage therapy does have its benefits, the chiropractic and rehabilitative treatments offered at Tangelo go well beyond. 
Our Seattle and Portland  chiropractic clinics offer natural solutions to body aches and pains using a combination of our holistic services. The goal is to find comfort as we build strength and empower the body to support you through proper function and balance. 
In this article, we'll discuss the techniques we provide to ensure your body is safe, comfortable, and best prepared for whatever life throws at you. 
Active Release Techniques- ART
Where there's an injured muscle, there's often scar tissue. Scar tissue and other adhesions have the tendency to surround soft tissues that have endured trauma, even when that trauma isn't very severe. 
These adhesions can cause weakness of the muscle and lead to joint and ligament compromises as well. They can create strain when working out, put the body in harm's way when the injured muscles are used, and even cause significant pain and loss of range of motion and flexibility. 
When this happens, the body's proper function is put at risk, and restoration is necessary. 
ART solutions use manual, hands-on control to release nerves and blood vessels that are trapped under adhesions that have formed around the injured muscles. When these services are utilized, blood and oxygen flow are increased, which provides pain relief, as it contributes to the body's balance and healing. 

Stretching and exercising
The positive impact of stretching and exercising cannot be overstated. As much as we depend on our bodies to support us, it's vital we support our bodies. Through proper upkeep, proactive care, and preventative maintenance, you can help keep your body pain-free and strong. How do you do that? Stretching and exercising. 
Although every patient is different, one thing is always the same: an exercise program that utilizes stretching will enhance body movement, flexibility, strength, and good health. Our chiropractors will determine the best take-home regimen for your lifestyle, activity level, and goals to ensure your body is working at its best at all times. 
Recovery support
The Tangelo chiropractic and rehab teams know that the proper recovery is key to the quality of life. Whether you've been in an auto accident, took a fall, completed a trying sporting event, or underwent surgery, we want to help you get back to doing all the things you love. 
Our rehab specialists will engage in physical onsite work with you, provide a take-home plan to complement your office visits, and educate you on how to best support and strengthen your body going forward. Finding comfort at the core, not hiding behind medication is crucial. 
While we can't predict when an accident will occur, if the body is already healthy and strong, your recovery will be smoother, with less downtime, and a vitality that will get you back on your feet and ready to go faster.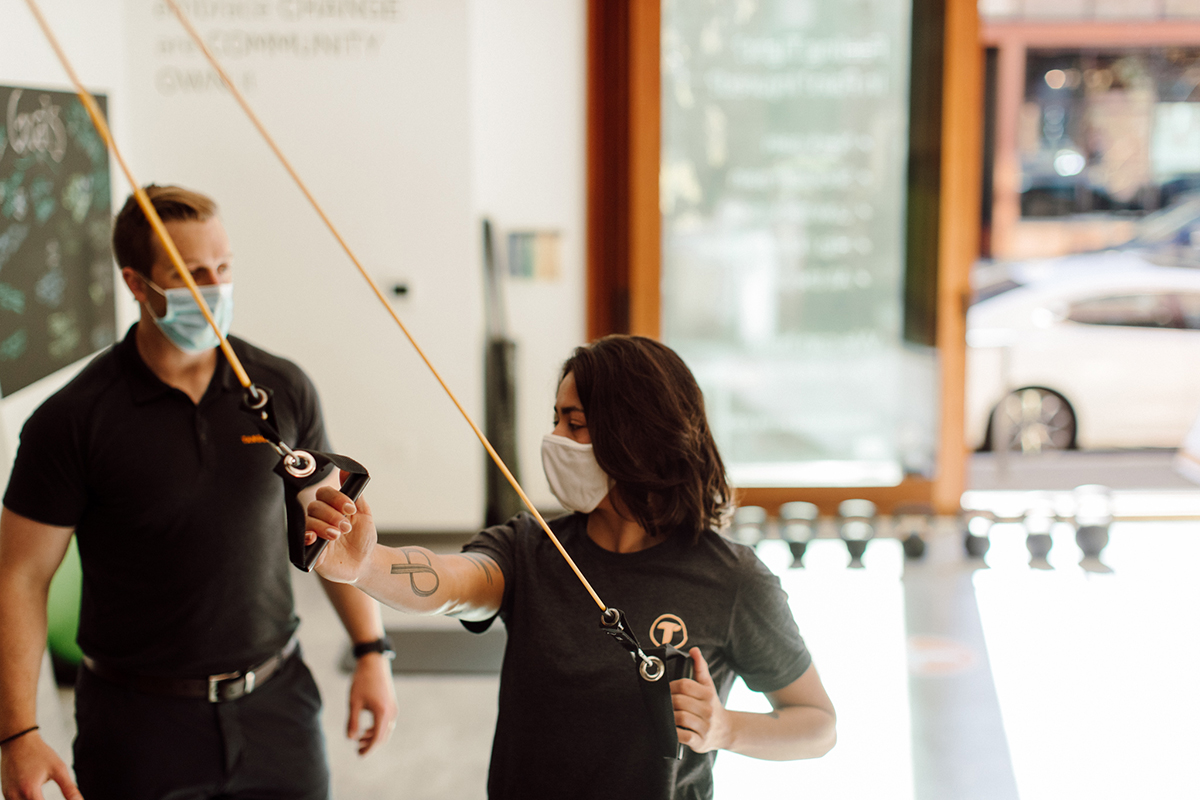 Functional rehabilitation 
Functional rehab comes in an array of services, all of which offer mobility, restoration, and strength. Providing patients with manual therapies, cupping, and sports chiropractic care are proven techniques that help heal the body quickly. 
When targeting specific muscle and joint groups, the body finds relief more efficiently, and often, discomforts wane immediately. It's important to always consider each patient's unique goals, needs, and limitations so the best and safest plan can be implemented.
The takeaway
The chiropractic services offered at Tangelo are designed to find a remedy to your pain. Massage therapy is a safe, positive step to a natural healing process; however, a more advanced approach is necessary in many cases. 
Through our care, your body will not only find itself free of pain, but it will be stronger and more capable than before. Talk to any of our Seattle locations, Fremont, Green Lake, or West Seattle, or our Portland Slabtown location to learn how we can get you healed, comfortable, and enjoying your life once again.