Create A Home Office That Prevents Neck Pain and Back Pain
April 29, 2021
Today's working environment has certainly seen some changes from that of only a couple years ago. While poor posture and inadequate workstations in the office have long been problems for employees, we've seen an uptick in  neck pain and back pain associated with the new, at-home workspaces. The Tangelo chiropractic care teams in Portland and Seattle want to help.
There are various ways to maximize your working environment at home so that your body isn't compromised. When we put pressure on the wrong areas, overuse muscles and joints, stay inactive for long periods, and contort to find immediate comfort, we're contributing to an under-performing, ill-equipped body.
When our bodies are unbalanced or in a state of discomfort, it will take a toll on our effectiveness, productivity, and mental and emotional well-being. All of which are necessary to perform our jobs reliably.
Avoiding poor posture plays a vital role in your body's function. When we lose the integrity of our posture, fatigue is the result. Postural fatigue adds pressure and puts extra demands on the muscles, joints, and ligaments. We'll become tired faster due to our body's work-increase and energy consumption. When the body isn't functioning at its best, its functioning is inefficient.
Fortunately, we have some solutions that you can put into effect immediately, and in return, you'll receive immediate benefits.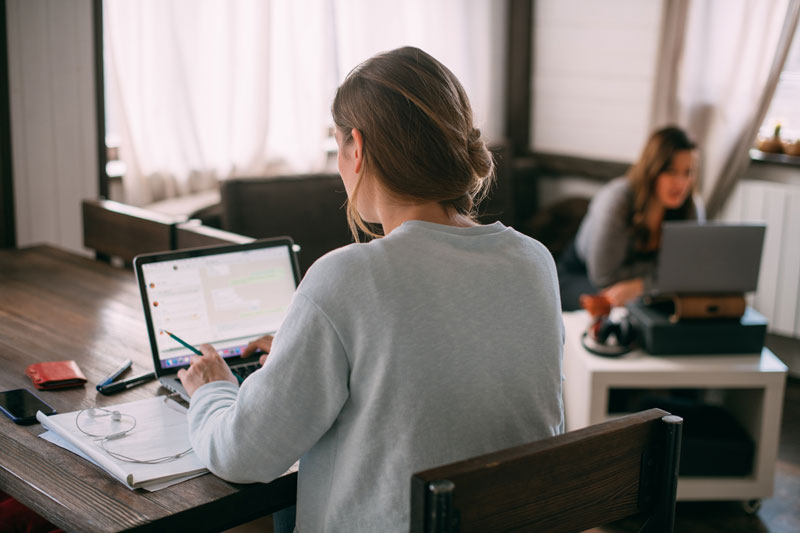 The Ultimate At-Home Workstation Setup
Not long ago, you may have longed for a job that allowed you the convenience of working from your sofa. We can't say we blame you. But now that it's actually happening, unconsidered factors are rearing their ugly heads in the form of pain, and that simply won't do.
With remote working quickly becoming the new norm (and maybe staying that way), finding the best remote workstation is essential to your body's health. And, we're here to tell you, using your bed, your toddler's craft table, or your floor are not helping your body's health.
But what do you do? Many homes aren't outfitted with an office or dedicated work area. Does that mean employees working from those homes must suffer from neck and back pain? It doesn't!
Here are the best workspace practices for your makeshift office if your only option is making do with what you have:
Use Your Dining Room Table
Most homes come with a seating area to eat. That area may be readily installed like a large kitchen island or built-in bar area, or it could be provided by the occupants in the form of a kitchen or dining room table.
If you don't have a desk, this is the very best option available to you. It allows you to sit as you would at a desk and keeps you from sitting on your legs, sitting criss-cross, putting your laptop on your lap, and more. All of which will affect spine alignment and can cause your neck and back to strain.
Keep Your Monitor at Eye-Level
Ensure the top of your monitor is set at or around your eye-level. Using a wireless keyboard and mouse or a laptop will make this part easier.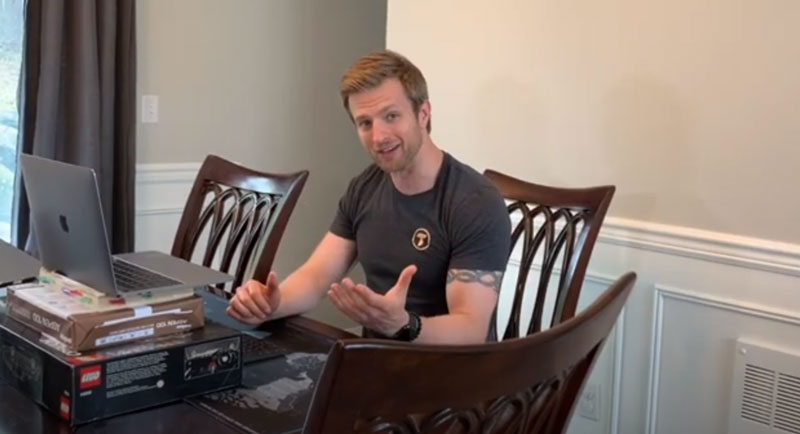 You can find household items that provide the necessary height to put under your computer to raise it (books, boxes), as well as adding a pillow on top of your seat to raise you and add some extra cushioning for comfort.
Taking these steps will help avoid neck strain, as they keep your neck in a safe, healthy position as you work.
Keep Your Elbows and Knees Bent at 90 Degrees
Your shoulders, neck, and spine will support you as they should while at a consistent 90-degree angle throughout the time spent on your computer.
Your feet should be on the floor while you work at your desk to promote better posture and keep you well-aligned.
Allow Neutrality in Your Lower Back
Keep your lower back neutral if you don't have a chair that offers lumbar support. The rest of your form will protect your back as you sit.
Don't Stay Sedentary, Stay Hydrated
Try to get some movement in every hour. Setting an alarm is a smart move since time tends to slip away as we work. Before you know it, half the day will have gone by without any action on your part, and your body will suffer for it.
Keeping hydrated is also an important factor in mind and body function. Having a water bottle on hand while you work is an easy way to remember to hydrate.
Watch our full video on the ideal at-home workstation and how to avoid postural fatigue completing exercises at your seat:
Exercises and Stretches to Support a Healthy Body
Exercising and stretching are important whether you're working from your remote at-home workspace or at an office. However, this energizing, strengthening and relieving tactic often goes forgotten.
You may not think your body's wellness is put in harm's way when you sit at a desk (or dining room table) for the majority of the day. You may think only athletes or those who lead an active lifestyle are those who get serious and chronic body injuries. Those are inaccurate and misleading thoughts.
In fact, many of the patients we see at our Portland and Seattle chiropractic offices come in because of neck and back pain due to improper posture and inactivity throughout the day.
But, don't fret; with minimal movement, much-needed support can happen, and body health is just around the corner.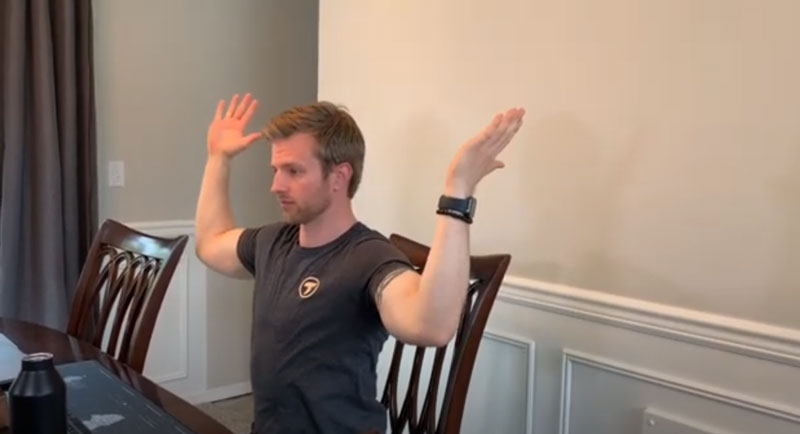 Let's Naturally and Safely Get Your Body Healthy
Let our team provide you with functional rehabilitation practices that ensure you're working at your best on every level. Our workstation exercises are geared toward protecting your neck and back, restoring balance, and providing better energy and oxygen flow.
Watch our video above to see quick and easy exercise tips you can take to get you back on track.
If your suffering is too advanced and you can't find relief from these suggestions, we invite you to come into one of our Seattle or Portland locations and see the chiropractors at Tangelo. Feel free to learn more about our in-office chiropractic solutions to back pain and neck pain on our website and call us with your questions.