What is Postural Fatigue Syndrome?
April 25, 2023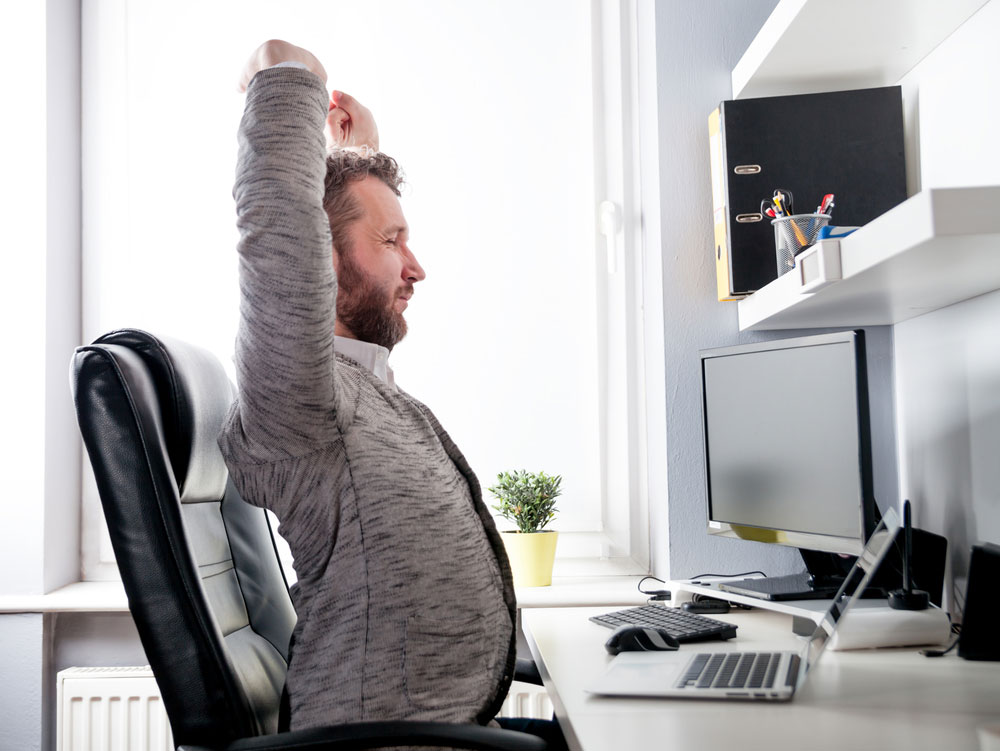 Have you ever been so fatigued that your body just couldn't perform? Maybe you chalked it up to poor sleeping habits, but did you know it could have to do with your posture?
The back and neck are made up of the spine, and when the spine isn't properly supporting us, we can become lethargic in body and mind. 
Posture is essential to your overall well-being and your body's health. When poor posture is part of our daily routine, we're unable to effectively utilize our body's structure which leads to compromising essential joints, muscles, and other soft tissues.
When our soft tissues and joints get tired from bearing extra workloads, they use up more of our energy, leaving us feeling tired and worn out. 
Postural fatigue syndrome is a significant problem for some people, but with the right chiropractic solutions, you can get back to living your energetic, focused, and undisrupted life. 
Today we're talking about what postural fatigue syndrome is and how you can help your body get the rest it needs through good posture and some safe, efficient, natural techniques.
Bad posture can and will make you tired
Our posture plays a leading role in the way the body functions and supports us. You've undoubtedly seen ergonomic-centric workstations, pillows, and mattresses that support the spine while we sleep; even our cars have lower back support now. 
We're no longer underestimating the importance of spine health because good posture is proven to maximize our comfort, performance, sleep, and overall function. When our body is stable and balanced, it works efficiently with our energy enhanced.
If this is all true, then the opposite is also true. Poor posture creates energy shifts that lead us into an idle state. When we're not using our body structure correctly, demands are put in areas that aren't meant to support them. Our bodies will tire quickly, forcing us to work harder when we move, sit, think, and even sleep. 
What causes poor posture:
• Poor sitting habits
• Slip and fall accident
• High heels, unsupportive shoes
• Sleeping positions
• Using devices regularly- cell phones, pads, computers 
• Stress
• And more
Not only does poor posture cause postural fatigue, but the stress it puts on the back and neck can encourage other adverse effects, including muscle weakness, discomfort when sedentary, poor movement patterns, tension on the hips, and more. 
The good news is that chiropractic care can eliminate your habitual poor posture through safe, in-office techniques, corrective exercises, stretching guidance, and overall health advice. 
Postural Fatigue Syndrome Stretches and Exercises
Tangelo's chiropractic solutions for postural fatigue syndrome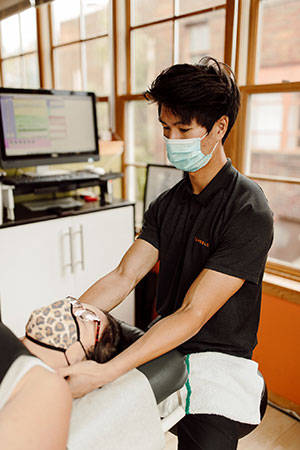 Chiropractic treatments are a non-invasive way to help steady and secure the body, improving habitual patterns that damage the spine and cause injury. 
Some of our postural supporting services include:
• Selective Functional Movement Assessment (SFMA)- a test that inspects movement patterns that help us design a fast, successful treatment plan unique to your needs
• Chiropractic adjustments– using our hands or specially created instruments, we will adjust the spine, realigning it so it can best serve you.
• Functional rehabilitation therapy– individualized functioning-enhancing exercises that strengthen the spine to increase postural performance 
• Workstation analysis– we'll discuss your current workstation and give tips on how you can improve it through exercises, equipment, and its setup.
• And more
Our postural management techniques will allow you to sit, move, and sleep comfortably and accurately in your safest, most natural state. Your achieved, effective balance lets the body's energy output remain productive, providing value and energizing both body and mind. 
Chiropractic care can help you get energized
Without proper sleep, every part of your life can suffer. If you're constantly feeling fatigued, if your neck and back muscles seem to always ache, if you can't stay focused, you may be experiencing postural fatigue syndrome. 
Our chiropractors are here to help improve your quality of life by managing your postural care. Our tactics maximize your energy level so you can use it wisely, doing all those things you love. We want to find the comfort your body is in need of. 
Contact our Portland clinic or one of our Seattle clinics in Fremont, Green Lake, or West Seattle today. Great posture and great sleep are just a click away!